Sun Damage on House Painting
The temperature in Westminster, Colorado is higher then average for Colorado cities. Depending on your houses position, your house could have a even higher temperature in certain areas where its well above the average temperature. High temperatures can affect your houses paint job years down the road with sun damage. Surfaces in the direct sunlight can be 10-15 degrees hotter pushing the temperature on your house to over 100 degrees on the hottest months of the year. These areas are typically affected by sun damage and result in extreme fading.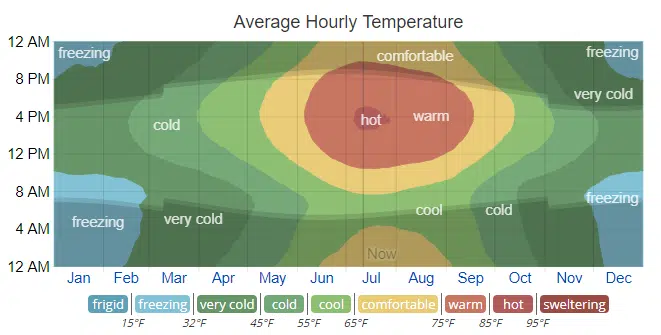 Paint is Sun Damage Protection
What is The Best Time to Apply Paint?
Paint is a great way to protect your home's exterior, and most important is executing a professional paint job. A quality paint job will last for 10+ year if done properly, and temperature is a large part of that. Painting helps hold your trim and siding together and is very important in protecting your house. The better the paint holds, the more it will protect the trim and siding from being damaged.
Temperatures that are too hot or too cold can drastically affect your paint job from lasting the appropriate length of time. If the paint is applied during the wrong times then your paint isn't going to stick. As you can see in the chart above, there are definitely better times to paint than others. This is one of the many reasons hiring a professional painter is in your best interest.
Proper Prep Before Painting
The painting professionals at Kind Home Solutions know that prep work is one of the most important parts of the job. We pride ourselves on our prep process, and no detail is overlooked. From cleaning the surface and masking areas where paint shouldn't drip to proper clean up we pay attention to all aspects of the job, not just painting.
Another aspect is applying high-quality paint after prep. If you do proper prep work and use high-quality paint chances of sun damage are eliminated for years after the paint job is completed.
At Kind Home Solutions, we value our clients and communication as much as quality. When we meet with you our number one goal is to educate you on the process and the materials that go into creating a long-lasting paint job. During this process, we will do a deep dive into what goes into the best painting materials to be used in Colorado.